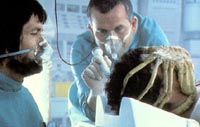 Late saturday night, still living at home by my parents in Södra Sandby. Rainy autum evening, home alone.
Switching channels (SVT1, SVT2, TV4, DR1, TV2), and in comes suddenly the darkness of space at danish TV2 (subtitled in Danish) and you are frozen in your channel-jumping...
Unforgetable night afterwards, hard to sleep, the feeling of beeing so small and helpless in the universe fills my memory still today when I think back on it.