One thursday-evening we got the idea of taking the ferry over to Visby (the main city on the largest island called "Gotland" in Sweden), so a couple of hours later we where running around on the ferry chasing babes.
The trip took about 6.5 hours and then we spent the whole day in Visby (lucky enough all the students in town where just this morning having champagne-breakfast, ie. celebrating their examination, which means there was a lot going on). We spent about eleven hours on Gotland before we took the ferry back (once more 6.5 hours trip!). Many years later a similar adventure was done as me and "Eskil" drove down in Europe with no direct goal, where visiting Luxemburg etches itself in my memory.

Another thing that happend me in Oskarshamn that stays put in my memory-banks was as we where out on a local discoteque (mainly to check out babes) and got stuck in front of the Roulette-wheel. For somekind of reason we found a system that worked, and just won and won and won and won...
It actually ended with that the girl that was responsible for the Roulette-wheel told us that she had to close the table, it must have been some kind of luck because we tried the system a bit later on in the evening again but it didn't work anymore).
&nbsp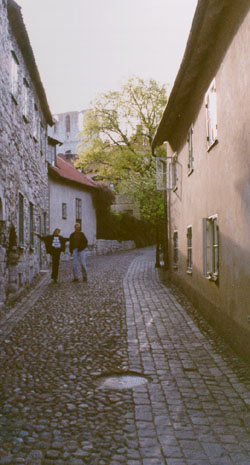 "Eskil" and "Stockis" in Visby (1991).