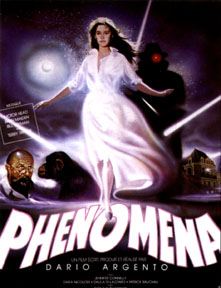 Phenomena is definitly my favorite horror-movie. The first time I saw it I had no idea of it's name, it's director (Dario Argento), I just borrowed the tape of a working-collegue. It grabbed me totally. I viewed the movie for a couple of friend but they didn't quite feel the same, I guess we all have diffrent ideas of our perfect horror movie.
Labyrinth was allready my favorit movie at this time, and for me it was some kind of chock to see Jennifer Connelly first acting in a childrens movie and then in a Italian extreme-gore-horror movie, and from this day on, Jennifer became my favorit actress.
I have met Dario Argento four times, the first time as I was on holiday in Vienna (saw Phenomena on cinema, and got a autograph on my Phenomena-tape). The next two times was under diffrent film-festivals and the last time was on the streets of Rome.